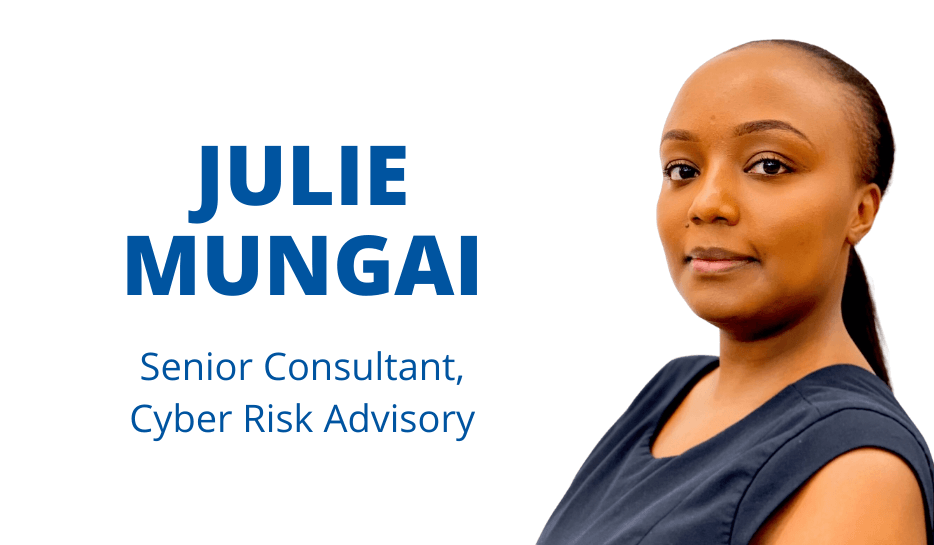 Take a few minutes to get to know Julie Mungai, senior consultant, cyber risk advisory. Mungai joined BARR Advisory in February 2020, and has quickly become an integral part of BARR's growing team.
Mungai brings extensive experience in performing internal controls auditing for both domestic and international clients in the fields of manufacturing, technology, and the pharmaceutical industry. She has also led compliance activities, including attestation services such as SOC 1 and SOC 2 examinations. 
We sat down with Mungai for a quick Q&A to learn a bit more about her:
Q: What attracted you to BARR Advisory?
A: Its commitment to client service. BARR is differentiating itself from other large and mid-sized firms by offering a personal touch. The company seems to be constantly evolving and thinking about new ways to deliver work that reflects our best quality. An example of that has been how BARR is moving away from traditional rate-per-hour models typically used by other firms. Instead, we use a fixed fee arrangement, allowing us to focus time in providing solutions for our clients.
Q: What are some industry trends you want readers to watch for?
A: One trend I recommend following is robotic process automation. A vast majority of companies are looking for ways to streamline routine processes and introduce efficiencies while doing so. However, one aspect of that will be a need to upskill initiatives to understand risks and controls introduced as a result of this. 
Q: What advice do you have for someone starting a career in the cybersecurity industry?
A: My advice is to be extremely passionate about the role and cyberspace. Always apply yourself with commitment as you will be challenged and exposed to a great deal in this fast-growing field. The key is to simply enjoy maneuvering through it all.
Q: What's your favorite quote?
A: Ask yourself, "What could I do if I wasn't afraid?" Then go for it!
Q: Where is the most beautiful place you've ever been?
A: I had the chance to visit Greece. I was awed by the beautiful beaches, of course, but even more spectacular were the unique islands, each with its own magnificence. I didn't get to go to all of them, but hopefully will be going back soon.
Q: What's your favorite outdoor activity?
A: Yoga and meditation by the beach. One of the reasons I particularly like yoga is because immediately after I feel rejuvenated. It's sort of like a mental and emotional recharge. 
Learn more about current openings at BARR Advisory here.