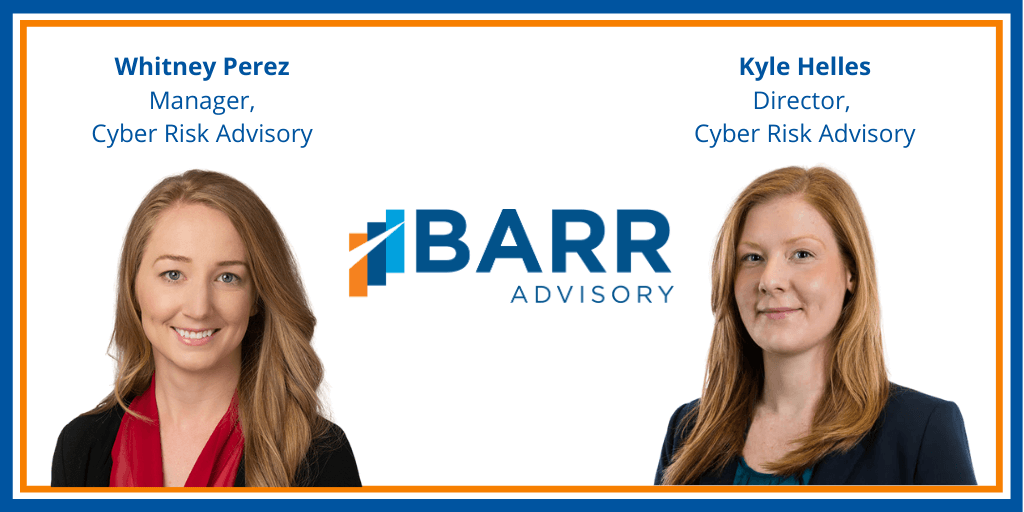 Attention accountants (and accounting majors)! Wherever you are in your accounting career—seasoned or just starting out—you should explore the world of cybersecurity auditing, which has quickly become a critical component of many companies spanning various industries. 
Until recent years, cybersecurity auditing wasn't even a course offered in most college accounting programs, which means many cybersecurity executives come from more traditional accounting backgrounds. The BARR team is no exception.
"I'm an accounting major who went into cybersecurity right out of college simply by accident," said Whitney Perez, manager, cyber risk advisory. "I interviewed for a business advisory services position, not knowing it wasn't for financial auditing but rather IT auditing. I got an internship with the company, and that was that."
And she hasn't looked back since. 
"Don't get me wrong, I love numbers, math, and the challenge of tying accounts out, but something clicked for me with IT and cybersecurity," said Perez. "I like having the ability to provide value and useful feedback to clients. Accounting is very black and white, while IT consulting and attestation services can live in the gray area, which I enjoy."
Kyle Helles, director, cyber risk advisory, had a similar experience entering the intersection of accounting and cybersecurity. 
"I stumbled into this industry by accident about 10 years ago and I'm thankful I did," said Helles. "I was an economics major working towards a CPA license and applied to a financial audit position at EY out of college. At the time, there was a bigger demand in the IT Risk and Advisory practice in Rochester, New York, which is where I wanted to be based out of and I was fortunate to be able to join that practice."
Helles feels it's important for anyone in the accounting industry to at least stay on top of cybersecurity trends.
"I encourage you to make the investment in yourself and increase the value you bring to your employer by learning about cybersecurity trends and information security risks that impact modern businesses and information systems—including financial information systems," she said. 
"For accounting majors, I recommend taking courses on IT auditing and information systems," Helles added. "You may find you like the content enough to further pursue this type of career."
As for accountants in the field, Helles feels that having experience in IT auditing could lead to career progression.
"Having an understanding of IT risks and experience with auditing IT systems can make you an invaluable resource because you'll be able to help bridge the communication gap that often exists between business-focused and IT-focused personnel."
Together, Perez and Helles compiled their top four reasons why accountants should consider exploring a career in cybersecurity auditing and attestation services:
Opportunities are growing. According to the Bureau of Labor Statistics, information security analysis is growing much faster than other industries. The job outlook shows an expected 32 percent growth between 2018-2028, compared to a six percent expected growth for financial accountants. BLS also says the "demand for information security analysts is expected to be very high, as these analysts will be needed to create innovative solutions to prevent hackers from stealing critical information or causing problems for computer networks." Learn more

here

. 

It pays well. According to

Robert Half's 2020 Salary Guide

, the midpoint salary for an IT auditor is $121,639 at the manager level, $95,022 at the senior level, and $78,356 for an IT auditor with one to three years of experience.

Accounting and cybersecurity jobs are exciting. Think fast-paced environments and potentially high levels of risk. Every day, every client, every control offers a different opportunity for testing and solution creation. Each experience is its own unique puzzle waiting to be solved, with new opportunities to rise to the challenge. 

It makes a real difference. With all of us online more than ever, cybersecurity criminals are working harder to steal sensitive data. The role of an IT auditor extends far beyond the digital world and into the physical one because it exists to proactively protect data from getting into the wrong hands.
Interested in learning more about accounting and cybersecurity jobs or looking to see what career opportunities are available at BARR? Contact us.